Summer Prep
So for this, I have chosen summer hair care as it won't be long now till your all off on your jollies. below I will go through products, hints and tips for your travelling and products that are a must-have!
One of the worst things for your hair and for hair colour is chlorine! this is in most pools and will be used around the world. To stop this affecting your hair or your colour you should wet your hair with clean water before entering the pool and then wash the chlorine out using clean fresh water straight afterwards. If this isn't an option then make sure you're applying a leave-in conditioner like split end mender.

Did you know TIGI Copyright colour lustre oil has the HIGHEST UV protection, infused in this summer must-have bottle of coconut oil? so this is something I would highly recommend you take along with you. while you're sitting by the poolside sipping on your favourite cocktail, looking all bronzey with wet hair, you can be loading the lusture oil into it, it really doesn't matter how much you apply.
Is your hair blonde from using lighter? I'm sure you will all be wanting that fresh colour before you go on your hols, and that's fine but I would recommend having your hair pre-lightened at least 1 week before you do set off. This will ensure that your hairs cuticle has had enough time to close before being exposed to chlorine and UV rays. You can seal that deal with our copyright moisture conditioner, this will give you 54% smoother hair which means smoother cuticle! so now your hair has had its first summer prep.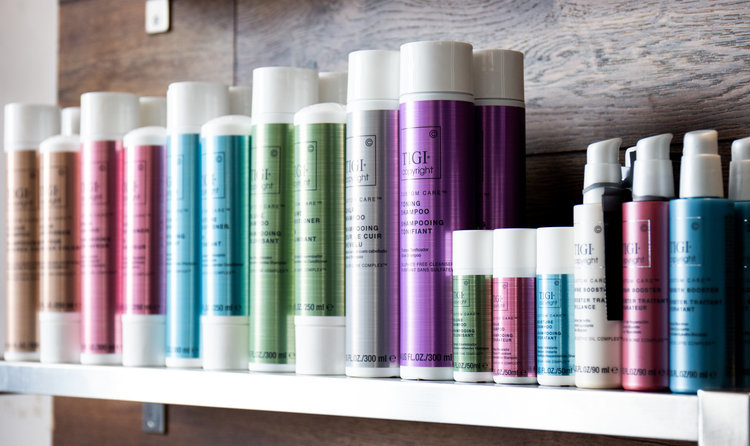 Want those beach waves but don't fancy getting your hair wet with salt water. No worries we have TIGI copyright salt spray to help you out. This product contains glycerin so won't allow the salt to damage your hair. The glycerin will coat the hair shaft before the salt takes hold meaning the hair is protected but you get the styling benefits of the salt. Amazing right! we think so and this is why this is one of our must-have holiday products.
Another tip for whilst you're topping up that tan, tying your hair up can be really bad for your hair if not done correctly or your using bands that are going to be so tight that they cut into the hair causing it to break. We recommend Invisibobbles as these change the way the pressure is distributed across the hair causing less breakage. If you are going to use a traditional bobble then don't tie this too tight keep things loose whilst your away or you may cause breakage.

I would suggest keeping it as real and as natural with your hair using organic ingredients. COPYRIGHT gives you all this. Don't use heat unless it's a must and PROTECT! PROTECT! PROTECT! With our heat protection spray infused with coconut oil, or sit soaking up the sun with our REPAIR booster on giving you 7 DAYS of lost keratin WOW! The special ingredient in this lil beauty is "ROSE OF JERICO", this is a plant that has the ability to live without moisture, so when that sun is blazing down and drawing out all the moisture from your hair it will still be protected.
HAVE A FAB HOLIDAY GUYS AND STAY HYDRATED, MOISTURISED AND PROTECTED.